As a child, I was amazed by the world of colours and fascinated by all that could evoke the stroke of a pencil.
This is probably why I drew from my earliest childhood, then tasted the happiness of putting my drawings in colour with gouache then watercolor.
When I was 30, I discovered, in an attic, an old box of oil paint Lefranc which had belonged to a great uncle so I started painting with oils.
Oil painting opened up so many possibilities to me that I have not stopped since.
I regularly paint landscapes on site, still life and flowers but above all portraits, because bringing a look to life and detecting the little smirk that will trigger the resemblance gives me immense joy.
 J'éprouve beaucoup de plaisir à partager ma passion avec mes élèves par des cours et des stages tant à Neuilly sur Seine qu'à Maisons-Laffitte ou à Avrillé.
I have also developed a glaze painting technique allowing working essentially light and transparencies.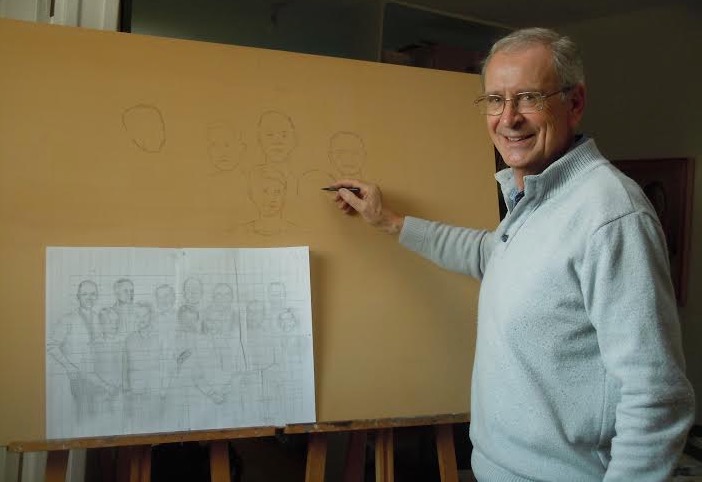 The Techniques
I teach drawing and painting and especially the "technique of glazing" which is the most complete, but also the most classics like "Oil on turpentine" or, more modern like "full paste" with a brush or knife.I have also started working on abstract painting.
For more details look at the page Training
Teaching
August 2007 Teaching in the training course on the technique of Flemish masters in Touraine.
September, 2007, Nov 2007 and Feb. 2008: Teaching of different painting techniques in Bonn, Germany to a group of eight painters.
April 2008: Teaching of different techniques in Touraine.
During 2008 animation of several internships in Hardelot and Le Touquet.
Since 2009 creation of a painting school with regular courses of painting and drawing in Maisons-Laffitte and Neuilly.
Depuis janvier 2022 cours de peinture à Avrillé (49240).
Stages de week-end et stages d'été réguliers.
Main Exhibitions
April 2006: Exhibition at the Galerie Thuillier in Paris.
June 2006: Exhibition in Remagen in Germany.
September 2006: Exhibition at the Syrian Cultural Centre in Paris.
April 2007: Exhibition in Bonn, Germany.
May 2007: contract for the decoration of the dining room of the starred restaurant "La Ferme de Voisins" in Yvelines.
May 2008: Varnishing day at the Restaurant "La Ferme de Voisins".
October 2008: Exhibition in Bonn, Germany.
October 2008: Participation in the René Théwissen Grand Prix in Belgium.
January 2010, January 2011, January 2012, Exhibitions in Montesquieu Centre in Maisons-Laffitte.
January 2014, January 2016 and October 2017 exhibitions in Georges Brassens Centre at Mesnil le Roi.
Mars 2019 exposition in Contrastes Sartrouville.
Janvier 2022 sur un mois : Exposition au restaurant Le Zebra 31 rue de Paris 78600 Maisons-Laffitte.
17 Février 2022 sur dix jours Exposition Amnesty International Angers.
Education
July 1973: beginning with oil painting.
July 2002: drawing course at the Ecole des Beaux-Arts in Paris.
During 2002/2003: painting course at the Ecole des Beaux-Arts in Paris.
Juillet 2003 : cours de peinture à l'Ecole des beaux-arts de Paris.
July 2004 and July 2005: training course on the technique of Flemish masters in the south of France
June 2005, July 2006 and July 2007: internships at the Summer University of Libramont in Belgium on the technique of the Flemish masters by one of the best specialists in the technique of the Van Eyck brothers.
June 2008: Contemporary painting internship with the American painter Franck Janka.
July 2015: Painting workshop with the Chilean painter Aldo Bahamonde.