To paint you have to control the drawing, the colouration and the lightness. If drawing or colour are taught everywhere, the light is rarely taught, in spite of being the most important parameter.
In the workshop "La touche du peintre" of Jacques Berté we learn mainly to paint light, drapes, models and transparencies.
The results are exceptional.
Oil painting
The Flemish masters latterly taught.
Inspired by the technique of the Flemish masters, the glazing method consists of painting with a succession of transparent layers, revealing the light before switching to colour.
Technique known as glazing, means by successive thin and transparent layers where we put the light before putting the colour. This technique, as illustrated opposite, offers an exceptional reproduction in so far as the most important parameter is not the drawing or the colour but the light.
However, it is essentially the lighting and the modelling that are highlighted by this technique, as the Flemish masters had understood so well in the 15th century.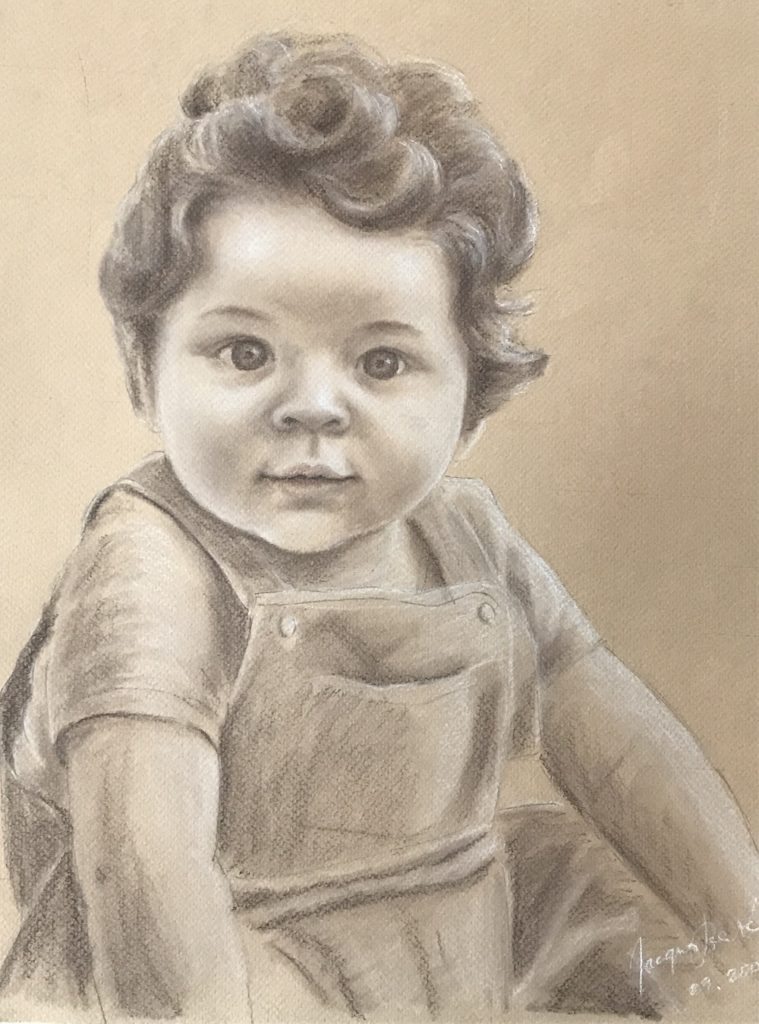 Drawing
Concept of outline and contour.
Delimitation of shapes, notion of positive and negative space.
Simplification of objects into simple geometric shapes.
Notions of surfaces and volume.
Perspective study.
Rendering of light, work on modelling and draping.
Work on observation.
Drawings of various objects.
Drawing animals, drawing the human body.
Realization of portraits.
AVRILLE
Days and schedule
Every Monday from 14:30 to 17. First lesson Monday 26th of September
PRICE
25 € per lesson or 200 € for 10 lessons that results in 20 € per lesson
​PLACE
Atelier de Jacques Berté 51 allée des Chataigniers 49240 Avrillé.
INSCRIPTIONS
By Jacques Berté at 06 85 42 06 63 or by email to contact@latouchedupeintre.fr.
MAISONS LAFFITTE
Days and schedule
Friday from 10 to 12:30 and from 14:30 to 17.
Friday 30 September 2022
Friday 21 October 2022
Friday 18 November 2022
Friday 9 December 2022
Friday 6 January 2023
Friday 17 February 2023
Friday 10 March 2023
Friday 21 April 2023
Friday 12 May 2023
Friday 2 June 2023
Friday 23 June 2023
PRICE
€25 per lesson or booklet of ten lessons at €200 (i.e. €20 per lesson) + annual membership fee to the association of €10.
​PLACE
Salle Montesquieu
78600 Maisons-Laffitte
INSCRIPTIONS
By Jacques Berté at 06 85 42 06 63 or by email to contact@latouchedupeintre.fr.
NEUILLY SUR SEINE
Days and schedule
Thursday from 13:30 to 16:30.
Thursday 29 September 2022
Thursday 20 October 2022
Thursday 17 November 2022
Thursday 8 December 2022
Thursday 5 January 2023
Thursday 26 January 2023
Thursday 16 February 2023
Thursday 9 March 2023
Thursday 30 March 2023
Thursday 20 April 2023
Thursday 11 May 2023
Thursday 1 June 2023
PRICE
Formula of €225 per year (for 12 lessons) + annual contribution to the association.
​PLACE
La Maison de la Famille de Neuilly
92200 Neuilly sur Seine
INSCRIPTIONS
Inscriptions by "Maison de la Famille" in Neuilly01 46 24 09 19 or by email to maisondelafamilledeneuilly@wanadoo.fr
DOCUMENTS : fiche d'inscription cours à Maisons Laffitte, fiche d'inscription cours à Avrillé, préconisations pinceaux, préconisations couleurs.
HEALTH PRECAUTIONS
For drawing and painting lessons we will respect the following recommendations:
Wearing a mask at the entrance to the course and during the course.
Disinfection with hand sanitizer gel at the entrance.
Systematic cleaning of brushes and equipment with hydroalcoholic gel before any change of hands.
Respect of social distancing between each student in the classroom.
Respect for all social distancing measures. 
Workshops
Workshops are organized on weekends on Saturdays and Sundays approximately every two months, as well as one-week Summer courses. They take place in my workshop at Maisons-Laffitte. The schedule is finalized and published three to four weeks in advance.
Specific "a la carte" training can be organized on request. Please get in touch with me if interested.